1.17.2011

She's growing so fast and learning so fast.
It's CRAZY.
What Indie is up to....
She is still sleeping through the night.
& i'm so grateful for that.
It's not hard to tell when Indie is sleepy.
She's pretty much only fussy when she wants to eat or sleep.
She'll rub her little eyes & whine until we lay her in crib for bedtime.
Her sleep schedule couldn't be any better than it is now.
I

LOVE

it.
She wakes up around 8-8:30.
eats.
is in the best mood ever for about 2 to 3 hours.
eats again.
then takes another nap.
She lets me get plenty of rest.
I wonder if she'll stay like this??
Indie eats so much I wonder sometimes if I'm feeding her too much.
I know she's eating normal she just looks so big.
She has eaten rice cereal a few times and we've been trying to feed it to her everyday so she can get use to it.
She's a big girl that tries to hold her bottle and sometimes she is successful.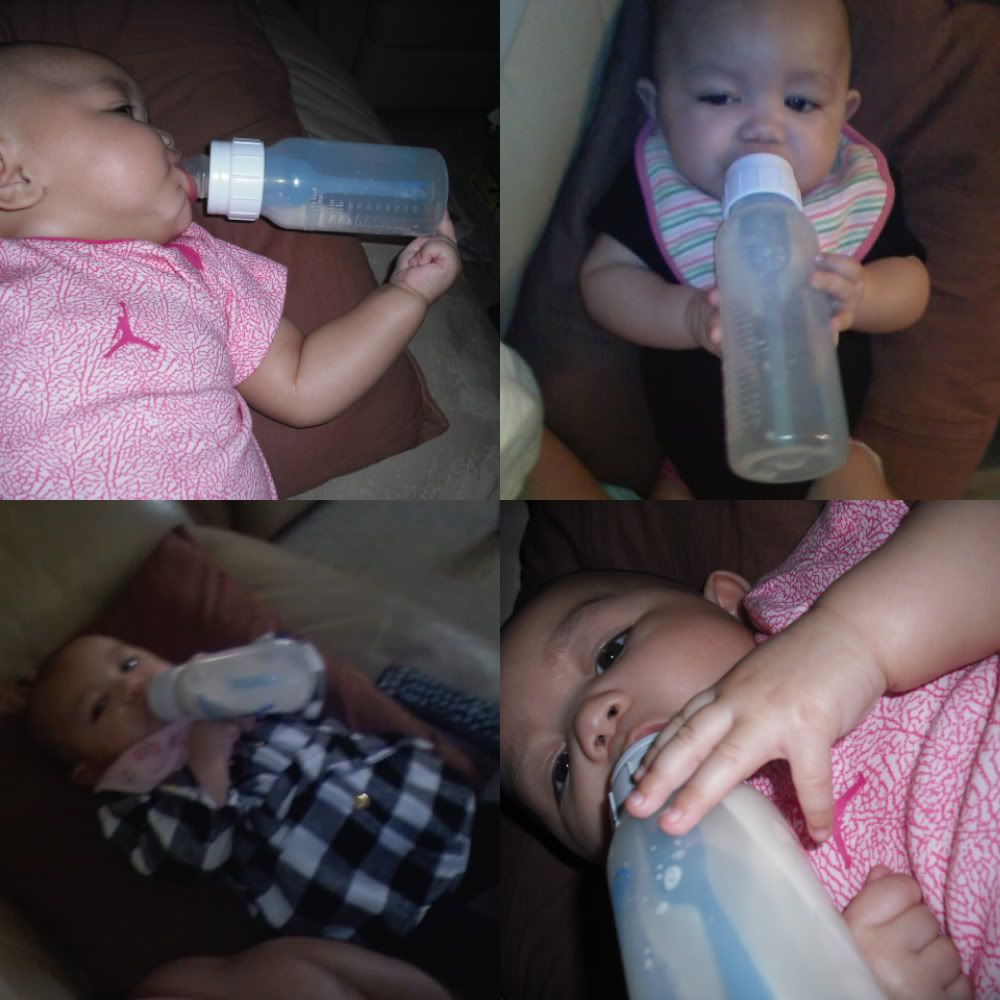 She puts everything and anything that's in her hands right in her mouth.
She loves sucking on her fingers.
This was the first time we got a picture of her sucking on her thumb.
She LOVES baths. It's cute to see her relax in the warm water.
She kicks a lot, coos, and smiles a ton while she's taking a bath. She likes bath time so much when I take her out she cries.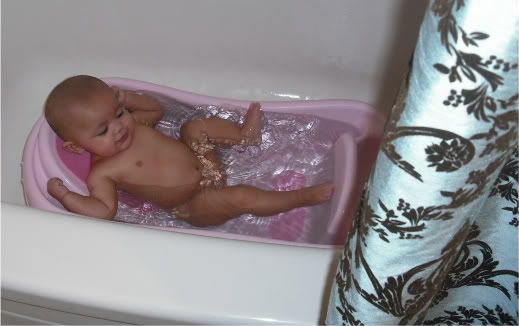 she looks so greasy from her lotion.
Indie loves Yo Gabba Gabba.
A little too much. Like she cries when it's over.
She's pretty cute when she watches it.
She'll kick her legs and bounce in her bouncer when they dance.
& when I dance with her she smiles and laughs.
Indie watching her favorite show.
She loves playing with her toys.
I guess its more like she loves eating her toys.
Its cool to see her hit and grab things.
She turns while she's playing on the ground
& she can roll over onto her tummy!
having fun playing on the floor.
Indie loves when we read to her.
Her favorite book is Touch and Feel Adventure.
She use to just stare and smile at the bright colors
but now she actually tries to feel the fur and what not.
We read different books to her everyday
but we make sure to remember to read that book to her.
& she usually whines when the books over so we have to read it a few times.
Some pictures of my sweet 4 months old babe.
We're happy she's been a healthy baby so far.
She has had a stuffy nose and a little cough,
but she still ate and slept well.
We haven't had to make any emergency trips to the doctors.
We feel so lucky to have such a
happy, healthy, beautiful BABY that sleeps through the night!